Take the next step in your journey to greater independence
Our Fastest model is a class 3 mobility scooter equipped with a Removable Lithium Battery. It can be driven both on roads and pavements. You do not need to have a drivers licence, pay road tax or insure the scooter. Green Power scooters are both road and footpath legal.
The Fastest scooter boasts an outstanding performance and is capable of reaching speeds of up to 15 mph (EU) / 8 mph (UK). Featuring a luxurious design, our  Fastest scooter is equipped with a strong 1000W motor and Removable lithium battery for off-board charging, providing a very long-running range of 45 miles per charge (Can be upgraded to 90 miles per charge) and has a climbing capacity of up to 30 degrees.
This scooter holds up to 37 stone, has a full lighting system consisting of low/high headlights, taillights and directional indicators and full suspension. The Green Power Electric Scooter is as easy to operate as any other rechargeable device you own.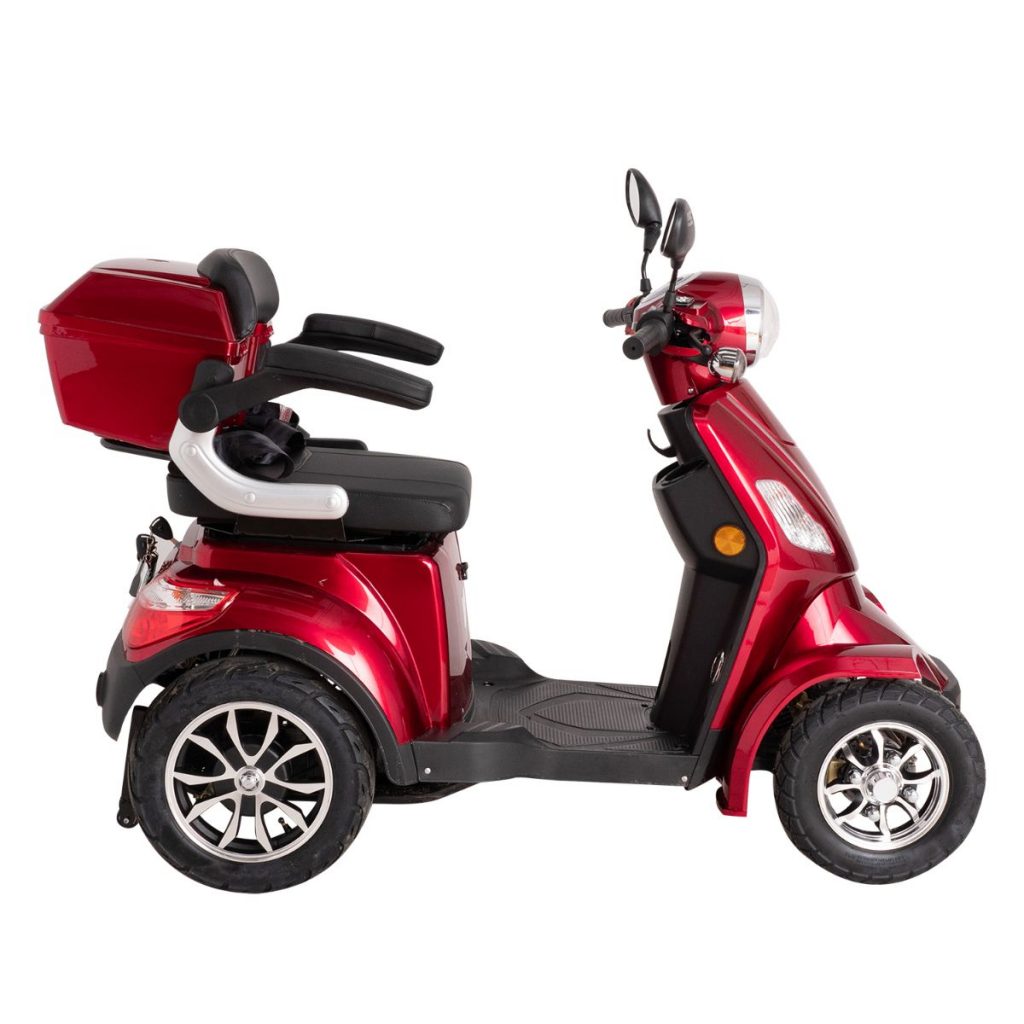 The Fastest Removable Battery
The Fastest scooter comes equipped with the outstanding Removable Lithium Battery; which boasts a longer life span and retains its full power capacity remarkably well. You are also able to remove these and charge them indoors, making your experience all the more convenient.
The Fastest high-spec brushless motor effortlessly climbs steep hills and powers through challenging terrains, ensuring that your Fastest scooter is ready for any journey.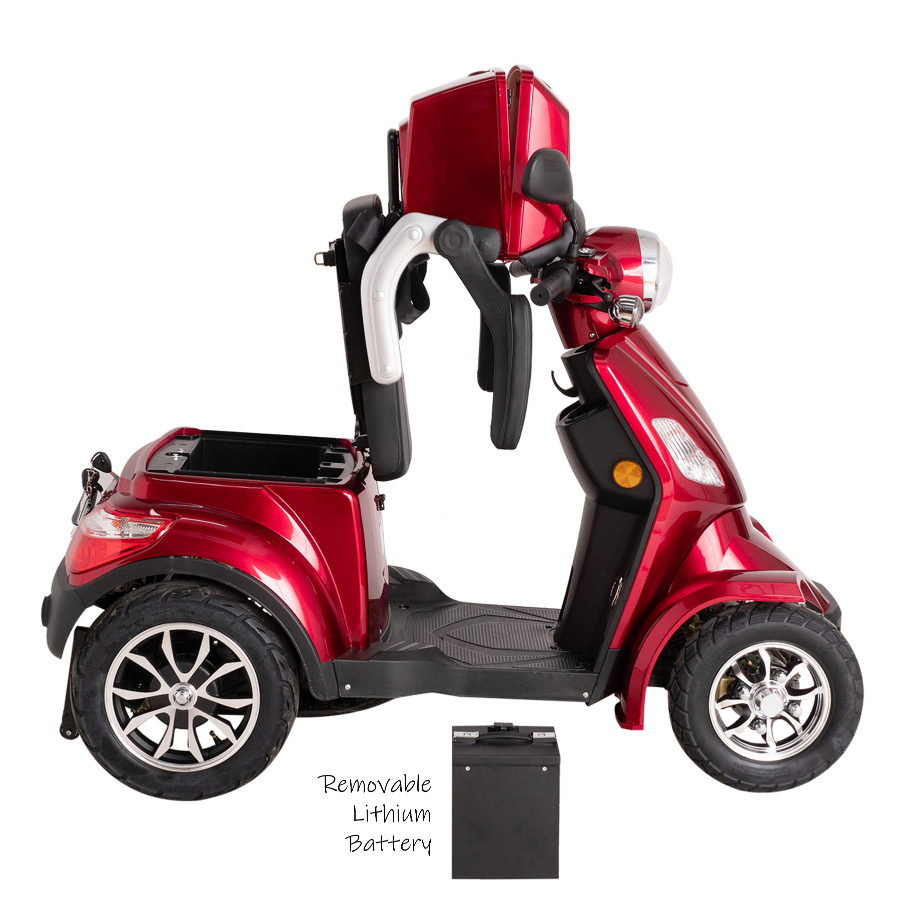 Ride in Comfort and Style
Our Fastest model is designed to provide you with a ride that is safe, reliable, convenient and easy to use. This luxurious, modern style scooter is extremely comfortable and includes features such as:
A plush shell seat with the ability to slide the seat forward and backward, padded adjustable armrests, a rear lockbox and under-seat storage compartment, as well as an Mp3 system with internal speakers as standard.
Our 4 Wheeled Fastest model comes equipped with front and rear suspension. It is self-balancing, making it easy for anyone to use, even if it's your first time on a scooter. We ensure you will enjoy a safe and steady ride with our Fastest model.
For extra safety it comes complete with rear view mirrors, a built-in security system with a key fob for arming and disarming, and an advanced remote controller. The Fastest holds up to 37 stone, has a hand brake system and front and rear suspension, ensuring a safe parking and driving experience.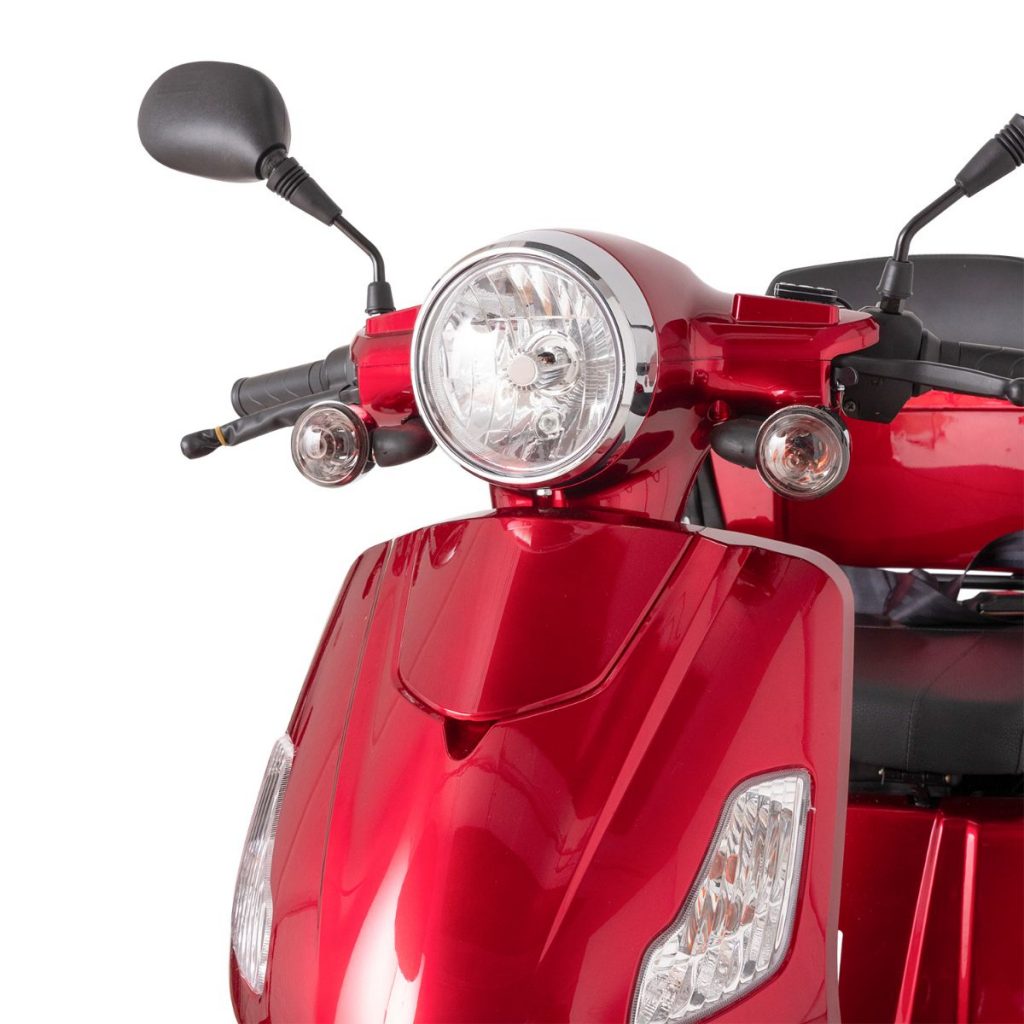 As soon as you placed your order and a delivery date arranged,  you will be entitled to a 30-60 minute appointment with our engineer who is going to perform a live demonstration of the Electric Mobility Scooter just for you on day of delivery.
He will teach you everything you need to know for how to safely operate the scooter which includes a comprehensive test drive as well as a Q&A at the comfort of your own home!
We advise you to think of any questions you might have beforehand, so that you don't forget anything when the engineer delivers your scooter on the arranged date.